If your horse has been diagnosed with laminitis, you're likely searching for ways to help alleviate their pain and improve their quality of life. While there is no cure for this painful condition, supportive treatment can make all the difference. From managing pain to improving circulation, there are many things you can do to help your horse through this difficult time.
In this article, written with Hugo's owner Tina Billingsley, we'll explore some of the most effective supportive laminitis treatment and give you the tools you need to help your horse feel better. So, let's dive in and discover how you can make a difference for your equine companion.
The Beginning of Hugo's Laminitis Battle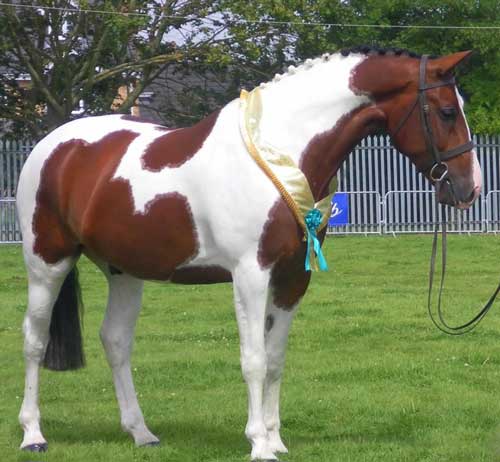 Hugo is a 13yo show horse, who I had since he was 10 month old. In January 2020, he suffered 2 strange episodes which completely took him off his feet in his stable five days apart.
He was referred to a clinic at Newmarket whereby he underwent numerous neurological examinations, blood tests, CT scan, x-rays of his whole body . They could not find why these episodes had happened. We were told not to ride him for at least six months and had to monitor him daily on CCTV.
All they found was very mild arthritic changes in C6 and C7 at the base of the neck. He was given two half doses of steroid injection into each of these joints.
Within 48 hours Hugo went down with symptoms of laminitis. He was already on an all fibre diet including Happy hoof so painkillers were added to it. X-rays were done and there were no changes.
By May 2020 Hugo was sound my vet said give him another month and then we could start long reining him in straight lines.
In July 2020 Hugo started to get intermittent lameness and then became crippled. His X-Rays showed that he had rotated and foundered in both front feet. A few weeks later he showed a few symptoms that could possibly relate to Cushing's disease. We had blood tests done and it came back that he was insulin resistant and had Equine metabolic syndrome. This was devastating news but would explain the sudden laminitis.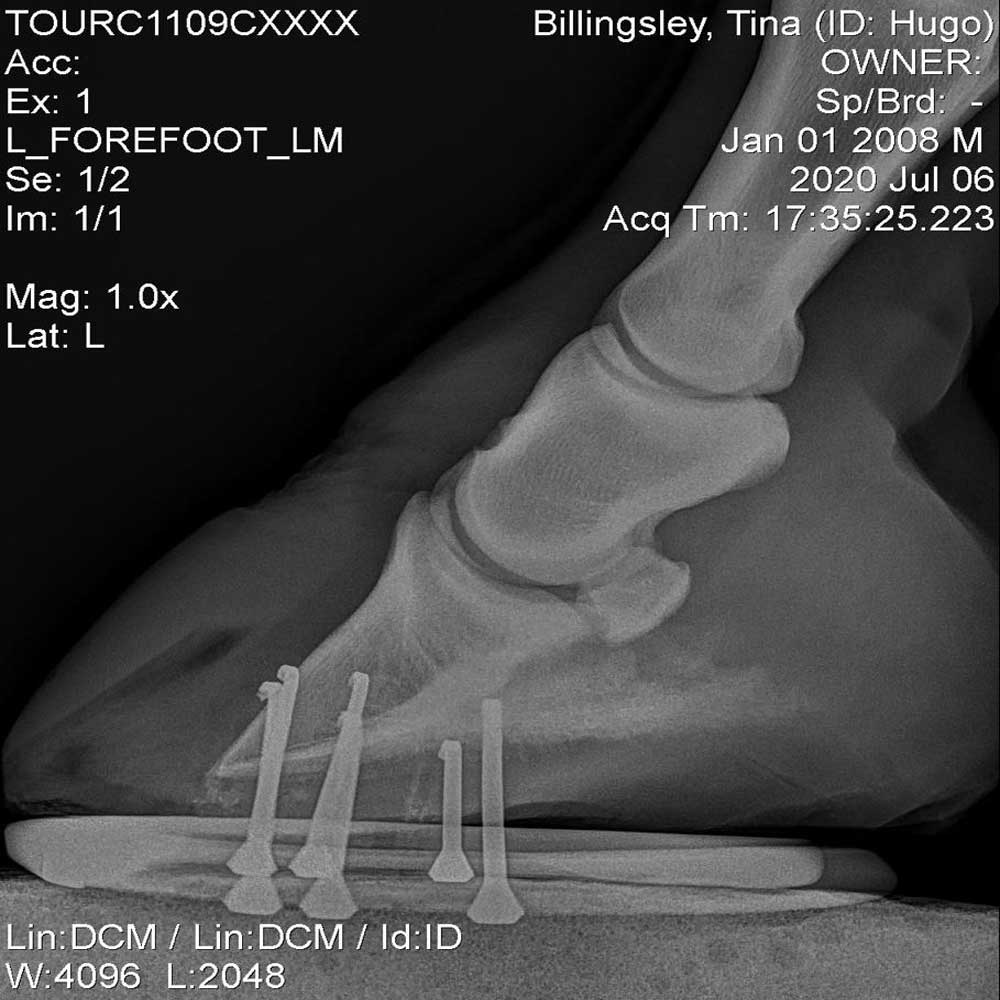 From Desperation to Triumph: How FormaHoof Saved Hugo from Laminitis
We have been managing him with this and he has had fantastic relief from slippers but because he is a door banger he breaks the glue constantly and they keep coming off and he's crippled. I then came across a post for a product called FormaHoof . I looked at all their case studies and contacted them about Hugo and they replied immediately.
The end of November 2020, we applied FormaHoof for the very first time and the outcome was better than expected and it was so lovely to see Hugo walk freely and be able to be turned out immediately.
Two weeks after the first FormaHoof application where everything was going well, Hugo came out of his stable crippled one morning. We found an abscess in the toe , it was due to necrotic tissue in the hoof being squeezed out where he has been moving and bucking around in his paddock now.
Phil Pearce my farrier opened up the apex of the toe so still allowing Hugo to have the important support of the FormaHoof on the heel and the sole, but giving the abscess room to drain. Within a couple of days after the toe cut away and the abscess drained, Hugo already felt much better and walked around freely again.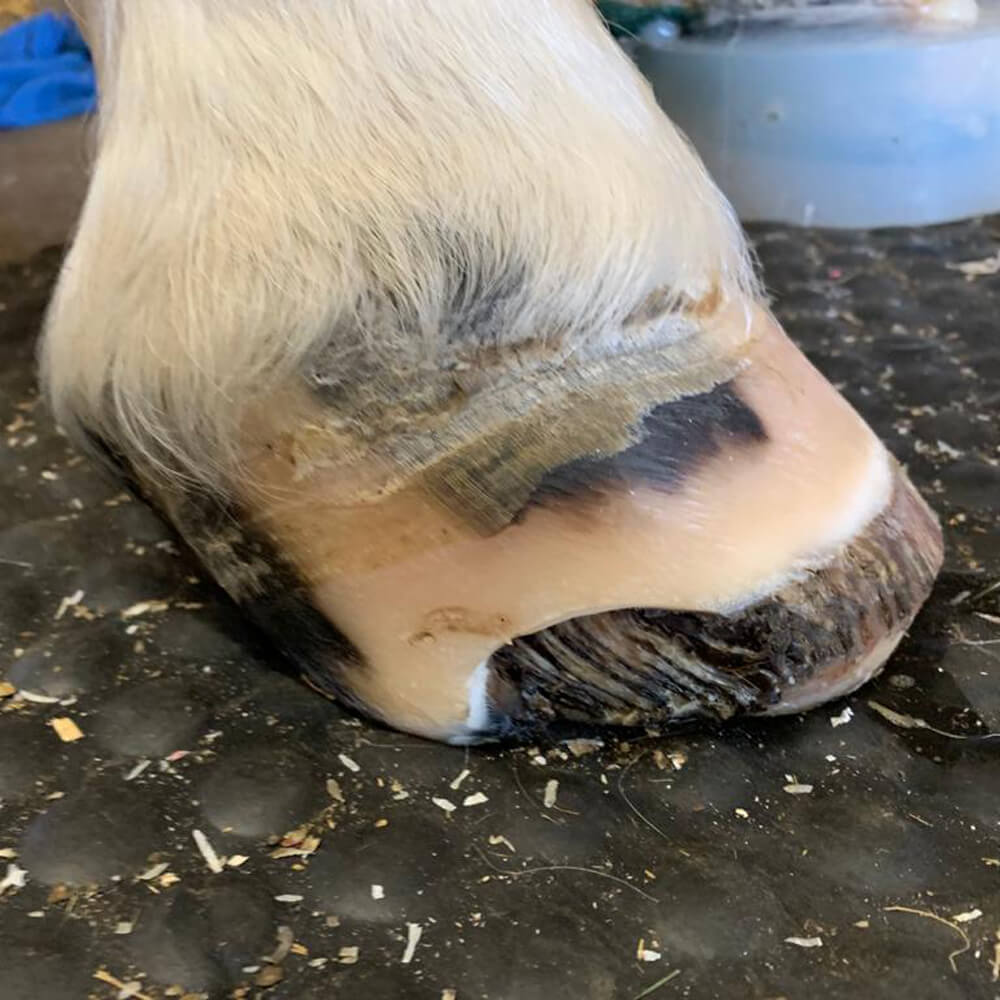 Did you know?
Common side effects of laminitis include seedy toe or white line disease, seromas (blood pockets) and/or abscesses. This is nothing unusual, but as done in Hugo's case needs to be treated immediately to avoid further damage.
Depending on the location of an abscess FormaHoof can be used as a replacement for a wound bandage allowing the abscess to drain, however in this case a part of the application needed to be partially removed to make space for the abscess.
We strongly recommend to get your horses' used to their new comfort and avoid galloping, abrupt transitions (run and stop in paddocks) or extensive exercise with laminitic horses after the first application, your horse will always need time to recover, even if they seem very comfortable.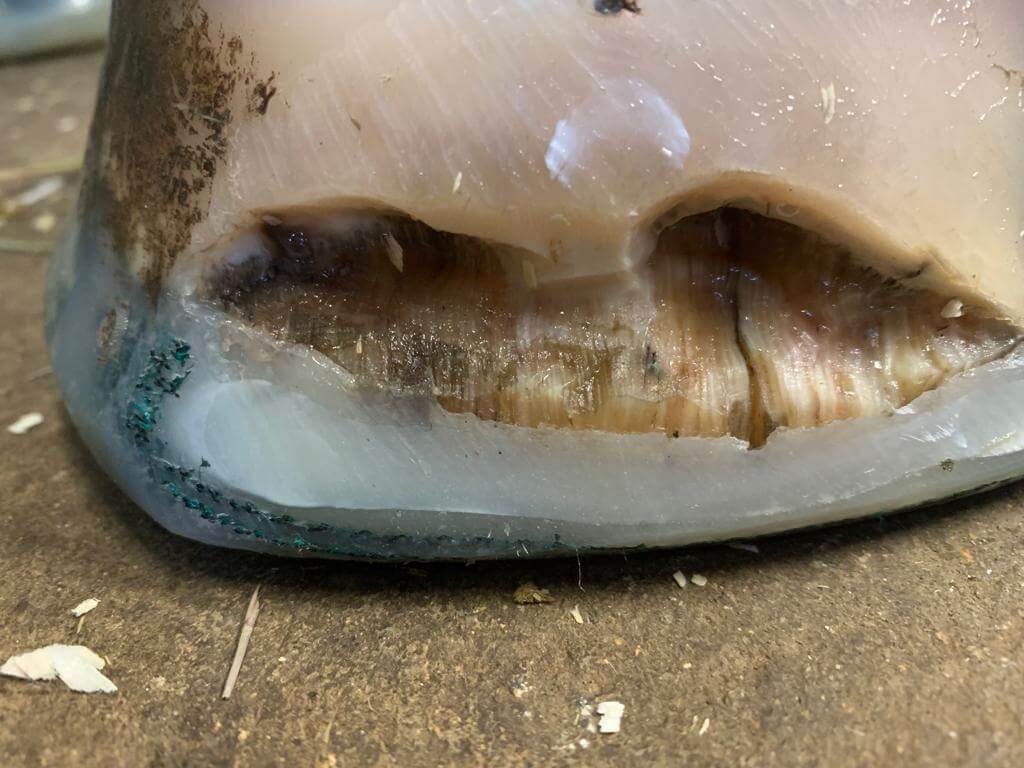 Before Christmas 2020, we removed the first FormaHoof application and Hugo has a good amount of foot growth and the progress was looking promising and we applied a second pair. Hugo seems to feel fantastic in the applications, he is bucking and rearing in his paddock and enjoying the sunny winter days which wasn't possible before he had moved into FormaHoof. He was simply too lame to be turned out, being able to turn him out is a huge advantage and benefit for the mental health during the rehabilitation.
Mid-January 2021, Hugo popped out of the off fore overnight in his bed, this can happen! Whilst many may think this is caused by faulty work, it is not. When the hoof starts to truly remodel, recover and rehabilitate from such a severe damage, it can grow out of the application and pop it at the end of a cycle. The FormaHoof material, other than a cast, allows the hoof to fully expand whilst providing maximum support.
Hugo's foot has grown well in the 4.5 weeks and we went on to go for the third application. We have started with shorter Application Cycles to keep full control over the state of the foot and growth, but may be able to allow a few more weeks per cycle now.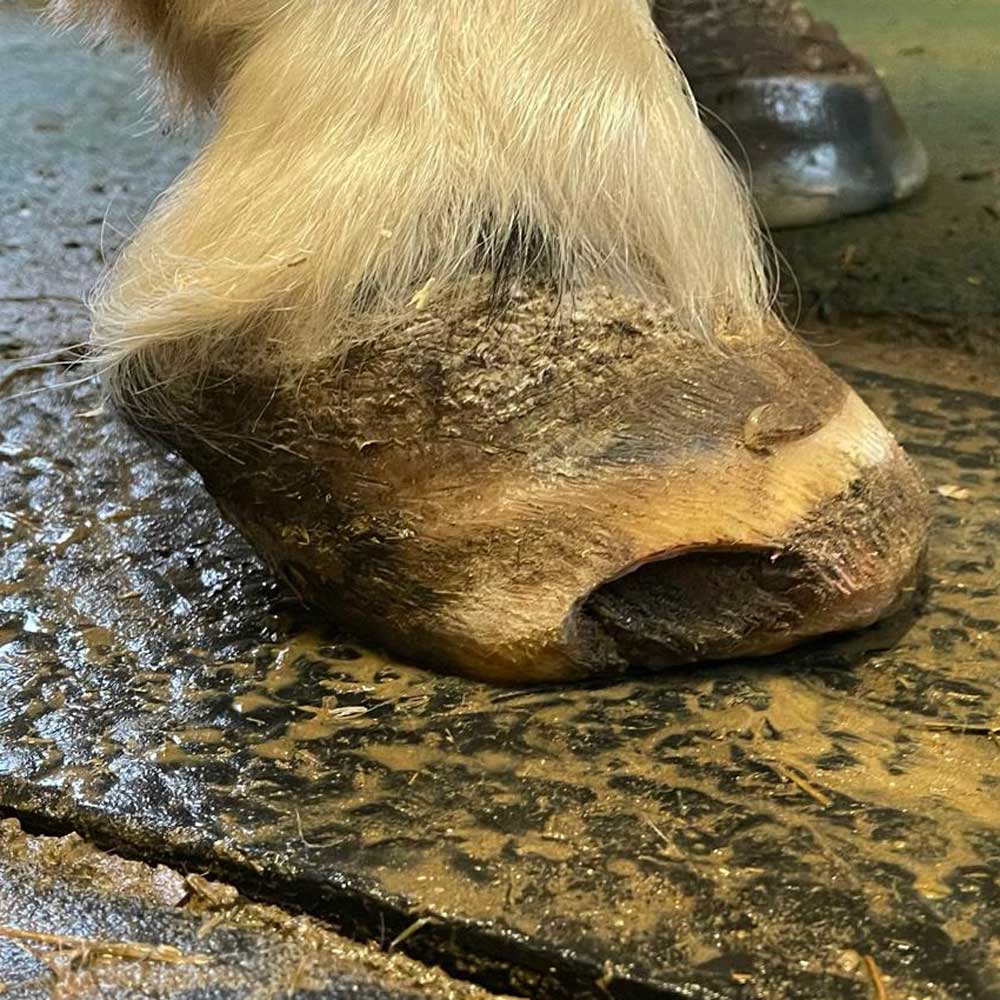 Does FormaHoof allow the hoof to expand and flex?
FormaHoof actively supports the natural movement of your horse's hooves. Despite its robust and protective design, it allows for essential expansion and flexing during each step, ensuring your horse maintains natural circulation and biomechanics. This mindful approach to hoof health not only safeguards against further issues but also promotes an environment conducive to recovery and ongoing wellness. With FormaHoof, optimal protection and the freedom of movement go hand in hoof. Curious to learn more about this innovative solution? Dive deeper into our comprehensive guide on FormaHoof.
Supporting Hugo's Road to Recovery: His First 5 Months in FormaHoof
Fast forward to April 2021, we x-rayed Hugo and from when Hugo was first x-rayed last July 2020 showing the rotation and founder in both his front feet to his x-rays last week on 22nd of April everything is looking fantastic.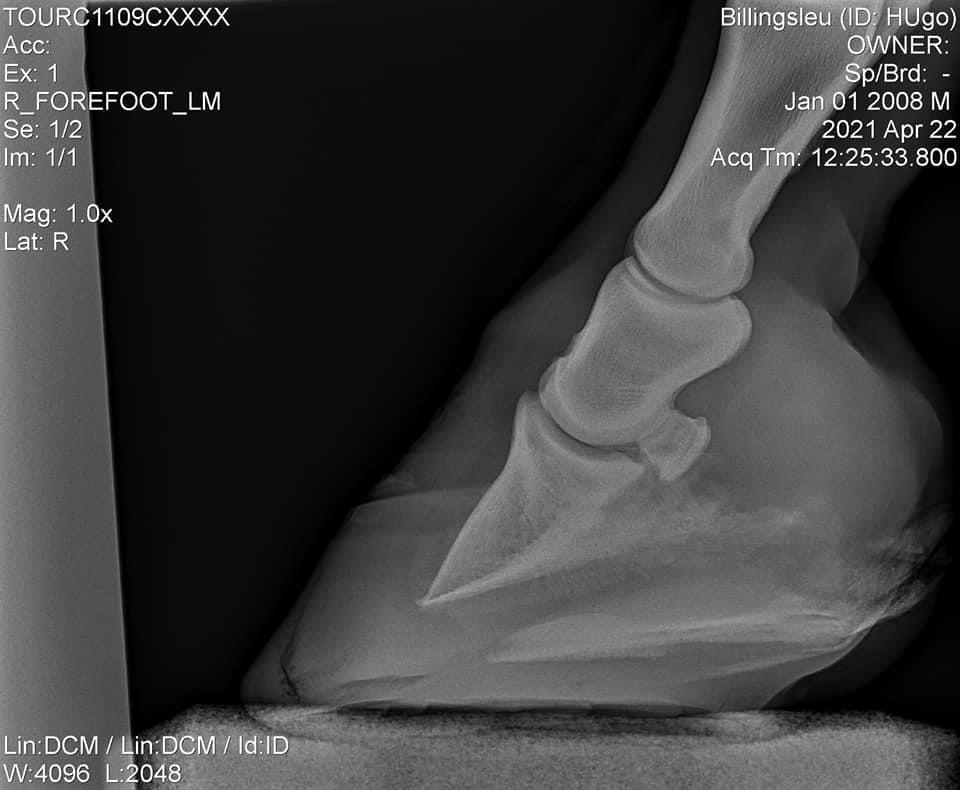 April 2021, Hugo has been in FormaHoof for 5 month, my farrier Phil Pearce did a fantastic job for persevering and applying FormaHoof. We all learned a lot and the product helped Hugo to trot up sound today, without painkillers. He enjoys his time being turned out and I am confident, that we can get him back under the saddle this year. We will continue FormaHoof for now as Hugo seems extremely comfortable and confident and the growth and progress he has made in these month are truly inspiring.
Hugo's recovery process, from clinic visits and stall rest to long-reining and back under the saddle
It is October 2021, and finally the day has arrived – After 11 months in FormaHoof and 22 months out of work Hugo has just had his first normal set of shoes put back on. He looks great, his feet look brilliant thanks to my farrier Phil Pearce and the fantastic FormaHoof product. I am so happy with the outcome. He is sound as a pound, no pain killers for over a year. X-rays looking fantastic. We have now started long reining and everything looking great.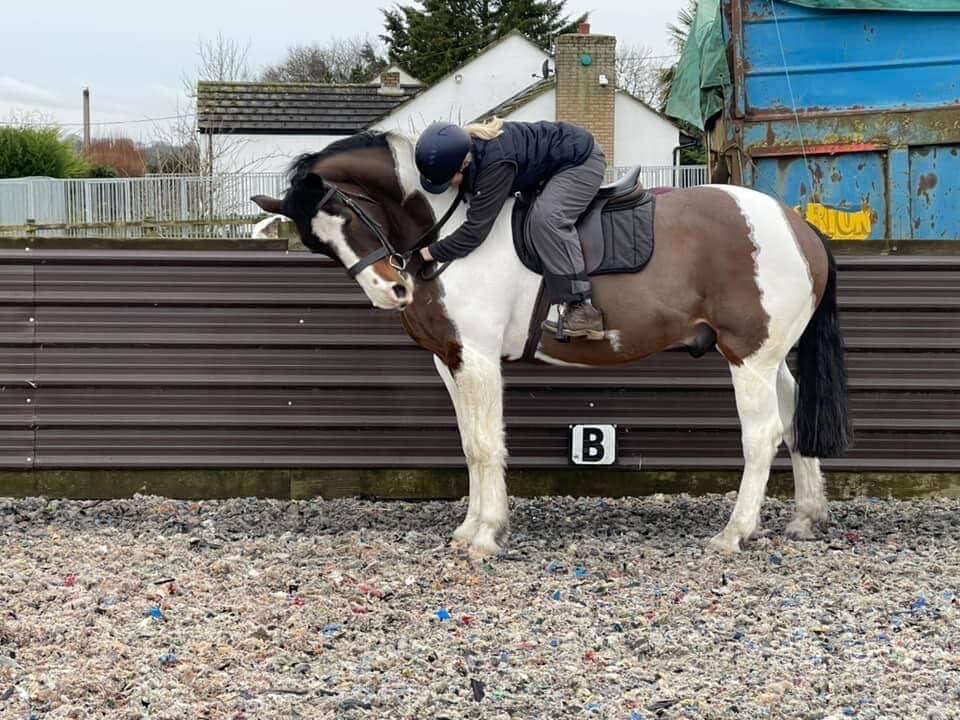 After two years I am back on board of my boy Hugo. Thank you FormaHoof and my farrier Phil Pearce, without you Hugo would not be with me today!
Hugo has been long reining over the last couple of months building him up to 45 mins, thank you to my friend Sally Bragg for doing this for me x. Now, in February 2022, I am able to sit on him, which is just fantastic.
If you are located in SE England, feel free to reach out to me via Hugo's Facebook page you can find all videos related to Hugo on the page and also link up with my fantastic farrier Philip Pearce. Phil has been working as a farrier for 20 years, shoeing horses of many disciplines incl. Showing, Showjumping, eventing, Thames Valley Police Horses, International Dressage horses and many others and we can't thank him enough for going this journey with us and being open to new ways of farriery to provide horses with comfort during their rehab.
Key benefits of FormaHoof whilst treating laminitis:
Provides immediate protection and support to the damaged hoof structures
Provides immediate relief from pain, without drugs
Quick and easy to apply
Allows for a faster recovery time
Offers great value for money, reducing the cost of the whole treatment when compared to traditional treatment approaches
Discover how FormaHoof offers a highly effective, supportive treatment process for horses with laminitis or contact us for more.