Staatl. gepr. Hufschmiedin - FCA Aletia Reilingh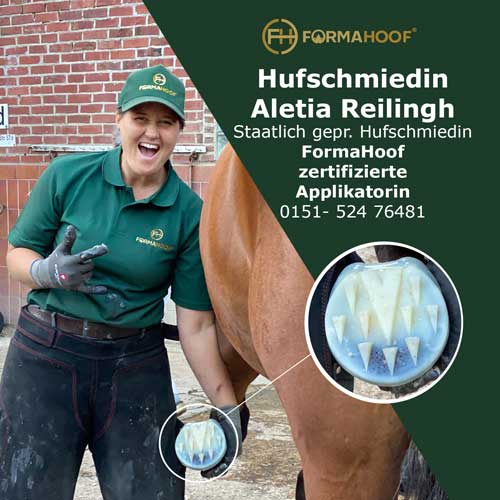 Aletia Reilingh, stattlich geprüfte Hufschmiedin und FormaHoof geprüfte Applikatorin steht für Termine und auch kurzfristige Notfälle in und um Ihre Schmiede-Werkstatt in Marbeck (PLZ 46325) bereit.
About Aletia Reilingh
A Canadian by birth, Aletia made the move to Europe in 2014, based in Borken/NRW and servicing several areas in the Northwest of Germany and parts of the Netherlands. Besides the job, Aletia is a highly successful dressage rider herself that will soon move on to Grand Prix level. Aletia is a
FormaHoof Expert
so you can rest assured you are in very capable hands!